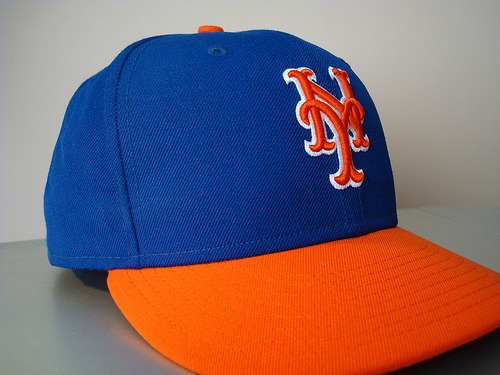 I'm so happy I prophesied the Mets New Hat.
Hey, look, I know I'm not the first person to come across this hat and say it would work.
But I'm going to use it as a jumping point.
People should start listening to me when I say this team is going places.
They should listen to me when I say that this team has found stability in a front office building from the ground up while their owners get their shit together again.
I came across someone recently who was longing for the days of Omar Minaya.
In fact, the exact quote was, "Where have you gone, Omar Minaya? Mets nation turns it's lonely eyes to you."
Wait...Really?
I can't fathom anyone in their right mind longing for the days of Omar Minaya. It was too scattered.
Yeah, he got us '"back on the map" for the latest highpoint on the Mets Rollercoaster, but his flaws got extremely exposed extremely quickly in 2006, 2007 and 2008, and then the bottom fell out, and his decisions made the Madoff Mess that much more impactful because the team sucked and a bunch of fans didn't go to their new stadium. Like a good amount of us said when Sandy and Co. got here, "The adults have arrived." Their goal is to bring long-term stability to a franchise that has been too much like their Brooklyn Farm Club's Namesake. And they are doing it. Why should I complain? Though they haven't won in the 2nd half yet, there is still a sense of direction, at every level of the organization.
Plus, something this team has never had.
I'm sorry if some of you cannot see that direction yet.
I still look forward to celebrating with all of you when that trophy makes its way up Broadway.
And hey, even I can't prophesize everything.
But I sure like watching The Show unfold.
I'm not going to complain about much.
...Except the fact the Mets haven't made the new hat available for purchase yet.
That I'll complain about all day.