Throughout human history, mankind has been fascinated by the hair growing on, around and above our chinny chin chin. For many of us, the fascination has carried over into our love of baseball. There has been a plethora of fantastic beards, 'staches, goatees and mutton chops since Rounders and Cricket evolved into America's grand ol' game. The Mets are no exception, having presented many styles over their 50 years. Born out of my own fascination is the first of an Exploration into the Facial Hair History of the New York Mets.
We will explore all eras of the Orange and Blue. The 70's and 80's will most-assuredly be well-represented.
There are 4 categories in which the awesomeness of the facial hair will be graded: Fullness,
styling,
length, and creepiness factor. Scores will be given between 1 and 10; "1" being "not awesome at all," "10" being "totally awesome." Creepiness factor will be graded between 0 and 10, with "0" being "not creepy at all" and "10" being "looks like a sex offender." The creepiness grade will be subtracted from the sum of fullness, length and styling. Grading "length" will not be based solely on how long the hair is, rather how the length works in making the beard awesome. "Styling" regards how well the facial hair is kept up. "Fullness" is pretty self-explanatory: the patchier the
facial hair
, the less points for fullness. The categories will all be graded by how well they compliment each other. The highest grade facial hair can receive is 30 points.
We begin with arguably the best beard this franchise has had on the Flushing Field: Pat Zachry.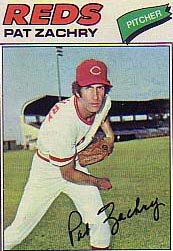 Pat was modest when it came to his facial hair in Cincy. It wasn't till he got to New York that his beard potential was fully realized.
He began his Mets career as clean shaven as ever...
Then, it was onto the 'stache...
By 1978, his facial hair had grown to epic status.
Zachry was one of the best pitchers for the Mets during a time when they averaged over 90 losses. Traded from the Reds as part of the Tom Seaver deal, Zachry compiled a 3.63 ERA, appearing in 135 games from 1977-1982, starting 113 and completing 20, 6 of which were shutouts. He won 41 and lost 46, averaging only 123 2/3 innings every year. Had he been healthier, The Metropolitans probably
would
have won a few more ball games.
"Well, I hope to learn how to control my temper, otherwise it will be a short career."
--Pat Zachry,
Mets Yearbook 1978
He injured his foot in his All-Star season after kicking a helmet on the dugout stairs. The Manager had just taken him out of a game and Pat was upset.
But we're not here to talk about his career. We're here to talk about his awesome beard.

Fullness: Pat Zachry's face has growing strands of hair not more than 1/100th of a millimeter between each other (it's a fact.) The beard clearly wraps around his face from ear to ear, extending all the way from his cheek to his neckline. He certainly gets a 10 in this category.
Length: At the time of the photo on the right, Zachry must have been growing and maintaining the beard for quite some time. With how full the beard can get, the length only adds to the awesomeness. I raise a 10 card.
Styling: Hard to completely see how groomed the beard is. If he, like me, can grow it on the upper cheekbone and on parts of his neck (it certainly appears that could be a possibility), then the beard is very well-trimmed. From what we can see, there doesn't appear to be uncut hairs sticking up over the general plane of the beard. He maintains the length very crisply. I'm going an all-out 10 on this one.
Creepiness factor: Too awesome to creep me out. Somebody certainly might disagree, but I subtract no points for creepiness.
Pat Zachry's beard very much deserves the honor of leading off the Mets' Facial Hair History Exploration. He is awarded 30 "awesomeness" points. I'll even go as far to say his beard is awesomeness incarnate.
Pat Zachry...
You and your beard were extremely worthy of wearing the Orange and Blue.