This past weekend, I traveled down to Philadelphia, Pennsylvania, to visit my friend Ted (who was featured in the first paragraph of my opening post). Earlier in the day, I had picked up my Mitchell and Ness Mets jacket, which
I thought could use a badge of honor on the left sleeve,
from the dry cleaners. For a very brief second, I contemplated wearing another jacket down the turnpike because I had a couple of jacket options at work (with a variety of heaviness) but that was a very fleeting thought.
After an hour and a half delay getting on the 5:40 bus (never take Megabus on a friday. Buy Boltbus earlier in the week before it is sold out) I arrived at 6th Street and Market Street decked out in my jacket, with the hotspot on my phone turned on and my laptop in my hand updating me on the Knicks/Hawks game. Ted pulled up and we drove to North Philly.
Getting passed our NY sports bias, Philadelphia is a very nice city. It's basically New York on a condensed scale, at least grid wise and architecturally speaking. There is absolutely no other city like New York City, and I'm in love with the place, but I like Philadelphia. North Philly looks a lot like areas of Brooklyn, and on this Friday night, we ventured to a beer garden called Frankford Hall right in the heart of the neighborhood.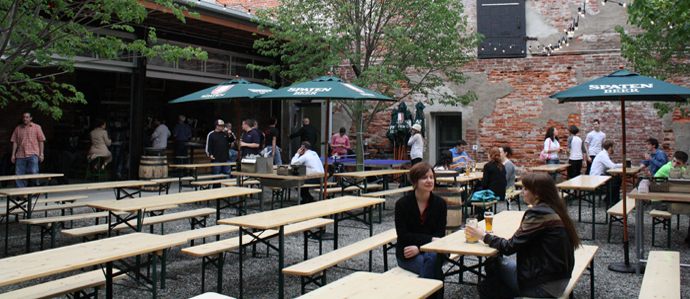 On our way over there, Ted said to me, "You're probably gonna get some remarks about that jacket." And, low and behold, Ted was right.
The first comment was straight from the man checking my ID at the front door.
"The Mets, huh?"
"Yep."
"Are you really a Mets fan, or are you just wearing it?" he asked, wondering if I was wearing it ironically.
"Nah, I'm really a Mets fan."
"My brother's a Mets fan."
"Well, tell him to read my blog."
Comment #1.
The place was packed so we went to order food and wait for some people to leave seats in the outside area. Once we spotted an empty nest, we scrambled and sat down, then both of us took turns going to the bar for some beer.
They have these huge mugs equal to three beers worth, and as the bartender handed it to me, she said:
"You know, I can't get behind the team, but that's a very nice jacket."
"Thank you."
Comment #2.
I sat down, and after about 10 minutes, a man in a Mr. Met zipper hoodie came up to me.
"As a fellow Mets fan in Philly..."
He shook my hand and put his left one on top of the shake.
"...God bless, bro."
"Thanks, man. Nice hoodie."
Comment #3.
After about another 10 minutes, a man and a woman at the table behind us got up to leave (the man was wearing a Red, White and Blue Mitchell and Ness 1989 NBA all-star game hat. I couldn't find the logo to link.) The lady approached me. (By now, the giant mug is less than half-way done, so the dialogue of the interaction isn't so fresh in my mind.)
"I really like your jacket."
"Thank you very much."
"Actually, I work for Michell and Ness." (for those who don't know, Mitchell and Ness is based out of Philadelphia.)
"Oh, cool."
I started asking her about this other Mets Jacket that's wool but sold out really quickly around Christmas time, and whether she knew if they would be releasing it again. Meanwhile, during that dialogue, the gentlemen told my friend over the noise that she didn't just work for Michell and Ness, but is a designer for Michell and Ness. So, it sounds like she designed my jacket.
"What's great about this jacket is that it's cotton, so it's washable."
"I know," she said, as if to say, "Yep. That's the way we designed it. For that exact feature."
Anyway, long story short (or lost in the night), she asked if she could take a picture and post it to the Mitchell and Ness twitter feed. That's the photo on the left. She gave me some cool, thin, non-personalized Mitchell and Ness business cards, one with a classic Blue Mets throwback jersey on one side.
Very cool. Thank you, Cassandra (I believe that was her name. Ted swears that's it) for designing that awesome jacket and for that awesome experience at Frankford Hall. (and thank you to my mom for buying me the jacket for my birthday.)
All in all, there were six comments about my jacket in total, the last one from a friendly twenty-something drunk.
"F*&k the Mets, man," he said not at all malicious. "No disrespect, but f
*&k
the Mets, man."
"None taken." He goes in to give me a pound/handshake/high-five hug.
"I mean, I love ya, cause it's baseball, but f
*&k you, you know what I mean?"
"F
*&k you too, buddy."
So, Met fans, be proud of your fandom. Always wear your heart on your sleeve. No matter what turbulent times have occurred or might be ahead, never be shy to wear you paraphernalia out on the town, even if the town is Philadelphia, Pennsylvania.
Some cool experiences just might happen to you.