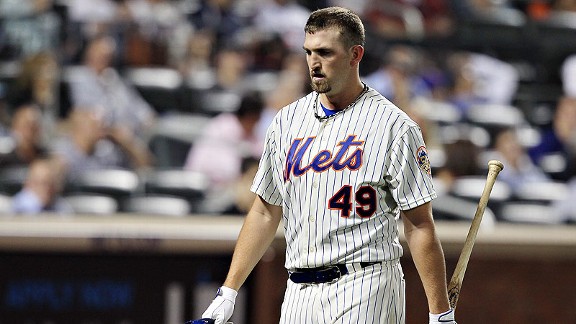 Last night, Greg Prince of
Faith and Fear in Flushing
and I met each other for the first time, venturing into the Citi hoping the Mets would do every horrendous cliche thing that is done to an actual water-breathing marlin. As is tradition, it seems, Jon Niese, after such a great outing the week before, forgot how to pitch in the 4th inning. The bottom of the 5th rolled around, and we actually had something going off the fish. The bases were loaded and there were 2 out, 2 runs were already in and the pitcher's spot was on its way up. Neither one of us thought Jon Niese was going to take an at-bat there. Yes, it was relatively early, but it wasn't like he was pitching the second Mets no-hitter of all time (that got taken care of in the 2nd.) Clearly, however, Terry did not want to burn his bullpen an inning earlier than he ended up burning it and sent Niese up to bat. "Uh...Ok. Maybe he'll deliver."
Jon Niese struck out looking on 3 pitches.
Hey. I understand NOT making a move there. Niese was only at 84 pitches and the bench was down a man with catcher Rob Johnson day-to-day because of a right-hand injury. And hey, not like the bullpen is...well...(however I end this sentence will be redundant.) I understand the move. I just don't agree with it. As far as I'm concerned, you have to force the point in that moment. You have to strike when the iron is hot, and it was scorching right there. Jon Niese, other than RA, has been a pretty solid hitter for us and of all the pitchers you'd want up there in that moment, I guess he'd be the guy. And the pinch-hitter could have easily struck out as well. But I still would have rather found out what a pinch-hitter can do than what Jon Niese can't do. The thing is, I'm probably not second-guessing Terry if it had been RA in that spot. Then, I would have completely understood it.
Jon Niese has not earned my respect yet. His starts are too inconsistent, too rollercoastery for me to applaud. He'll be lights out, then forget his entire gameplan. It's growing tiresome, and I hope he figures it out soon. I guess the baby step this year would be having him actually finish a season...then next year let's worry about him becoming the pitcher we all know he can be...? Gaaaaaaah.
I have nightmares where the abbreviation "LOB" haunts me. It looks like the
"Pink Elephants on Parade"
sequence from
Dumbo
, just with orange and blue balloon font "LOB" passing by me.
The Mets look to snap an 8-game home losing streak when they send Chris Young to the mound to take on Nathan Eovaldi and the Marlins. Game time is
7:10PM
.