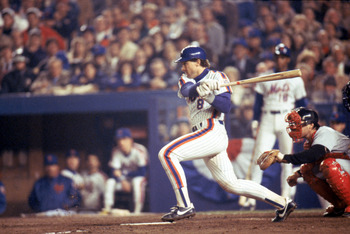 The Kid popped into my mind today. I wish I could have seen him play, but I am blessed (and, to an extent, cursed, but that's a different discussion) to live in a time where Gary Carter highlights are at my fingertips. I discovered, however, that there are lots and lots of cheesy Gary Carter tribute videos, using the likes of "Dream On," "I Will Remember You," and a REALLY REALLY cheesy song from '89 which got me hilariously aghast at its usage. All I really wanted was an At Bat, or a play at the plate. Something short. Or Highlights strung together with only the crowd and the original television broadcasters as noise (no Michael Bolton cheese, please.) Then...I found this.
Let's find us a Catcher.
I just couldn't help it.*
*In no way, shape or form does Converted Mets Fan endorse
When I see You Smile
by
Bad English
. This is for comedic purposes only. Although, it is awesomely cheesy 80's. Plus, I thought it was quite awesome (word of the day) how well the Mets highlights were edited to the...echem...lyrics.