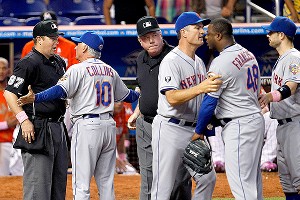 Jon Niese pitched 6 shutout innings (with the flu) and the Mets got him 2 runs. Ramon Ramirez, however, could not hold it, walking a batter and allowing a tying home run to John Buck. Justin Turner was able to plate 2 off Heath Bell in the 9th on a double down the 1st base line, giving the Mets a 4-2 lead. Frank Francisco and Manny Acosta combined to give up 6 runs in the bottom of the inning, however, as the Mets lost the rubber match to the Marlins 4-8.
I, for the most part, was not able to watch this game as we were taking my mom out to brunch for Mother's Day. It was hard to witness the MLB Gameday detail Frank Francisco's meltdown in the 9th inning, watching fastball after fastball reported back to me as unsuccessful. The bottom line is we have a winning ball club on our hands, and even if the umpire might be pinching you a little bit, you HAVE to hold it together and make your pitches. Plus, when they were definitive strikes, THEY WERE VERY HITTABLE. Two pitchers we brought in to revamp the bullpen have not performed up to standards. I am less concerned about Ramon Ramirez (still concerned) because he has a track record of winning baseball and performing under pressure (those Giants teams were always in tight games.) Frank Francisco has no track record of being a winning player over a long period of time, though, and now that we know what this team is capable of, we desperately need somebody at the back of the bullpen to lock it down circa Brad Lidge in '08 and MO' RIVERA CLOSE TO EVERY GAME OF HIS LIFE. I know emotions are running high after two blown saves, but Terry Collins has every right to be assessing every option right now.
Alright....I have taken a breath and calmed down a little bit. Time for some takeaways from this game:
David Wright ABSOLUTELY SNAGGED that ball hit by Hanley Ramirez in the 6th. He's been fantastic, at the plate and in the field.

Way to have another great at-bat off Heath Bell in the 9th, Justin Turner. Great clutch piece to have off the bench for this team.

Early on, Carlos Zambrano was extremely efficient and the Marlins were making Jon Niese work (he had around 50 pitches through 2 innings.) Niese, however, kept getting out of jams and settled in, allowing the Mets to give him the runs he needed (unfortunately the bullpen couldn't hold it once more. GAAAAAAAAAH!!!!)
Alright. Another outburst...And I'm back.
The Mets have two 2-game series this week. First up, Yovani Gallardo and the Brewers take on Miguel Batista at 7:10PM Monday at the Citi. The Reds arrive in on Wednesday. LET'S GET TO 8 GAMES OVER, METS!!!!!!!!!!!
LET'S. GO. METS.