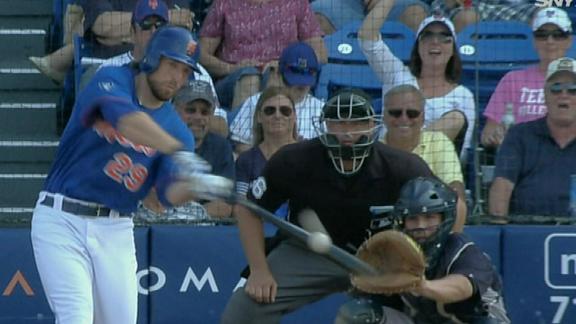 Yesterday, for the first time since 1997, The New York Mets took on The New York Yankees in what was the first of back-to-back games between the two before both teams begin the 2012 regular season. Our man Ike Davis sent us home victorious with a solo shot in the bottom of the 9th for a 7-6 win over our crosstown/up-and-across-Florida rivals.
After back-to-back.....to-back-to-back...(you get the idea) of blaa-ness from Mike Pelfrey, the front office seriously contemplated cutting ties with the 6'6'' right-hander. Terry Collins apparently chatted with Pelfrey, informing him that this front office, even in spring training, will not be tolerant of that kind of performance. Since then, Pelfrey has turned it up, looking very sharp, getting his fastball and sinker down with bite, and even deploying some good-looking breaking balls. He pitched 4 innings, giving up one run on a solo shot by Nick Swisher. Big Pelf needed to show some progress, for his own sanity and for ours, and he has done so in the last two starts, albeit against the Astros and the B-Yankees line-up, respectively. Regardless, we all hope this is a trend upward for Mike, who looks confident and in control on the mound right now, even with runners on base (which actually didn't occur very often in this game.)
Ivan Nova started for the Yanks and couldn't keep the ball down. The Mets offense got level swings off of the young Yankees pitcher, making solid contact which translated to 3 runs in the first inning.
Andres Torres made his return to Major League action and looked to have the calf strain in the past...for now. (Yesterday, I made my Rising Apple debut with a piece about Andres Torres and how I believe, based on my experience, Torres might be more prone to muscle strains because of his ADHD medicine.) Torres got on base twice, and went 1st to home in the second inning. His stride looked unaffected by the calf strain, as his speed was at the top of his game. He was removed after the 2nd inning, but only because Terry Collins didn't want him doing too much.
After Pelf's solid outing, Jon Niese arrived for his last tune-up of the spring, and unfortunately was not that sharp. After having a 5-1 lead, Niese left the mound with the Mets down 5-6. Word is that The Mets and Niese are working on a 5-year extension, which I believe is a fantastic idea. Don't let that make you feel secure, though, Jon (Just kidding. Jon Niese is the least of my worries. I think he's gonna have a breakout year.)
Other takeaways from the game:
The game was the first time this spring I have seen David Wright in a game. He lookin' good at the plate (with a solid opposite field hit in the first inning) and in the field (with a fantastic back-hand play on a chopper down the 3rd base line to throw out Andruw Jones at 1st.)

It was nice to see the projected Opening Day line-up for the first time this spring. It excites me thinking of what this line-up has the potential to do.

Even Jason Bay was finally turning on the inner-half of the zone, getting the barrel squarely round the ball. Who knows what this means.

David Hudgens' hitting philosophy is evident with the amount of walks taken by this team. We led the league last year in walks and were 2nd to St. Louis in On Base Percentage. Drastic difference from years past, where we gave too many at-bats to players with OBP under .300.

Byrdak is a freak of nature, getting back on the mound after knee surgery less than 3 weeks ago. Unfortunately, he had surgery on his face as well, getting a facial hair removal procedure. I hope this doesn't start a trend (You hear me, GEE?!!! Keep that Goatee!!!)

Tony LaRussa was a guest in the booth in the 3rd inning and said something very interesting when asked whether these big, 10-year contracts make it harder for a manager: "Well, it makes it harder and that's been the biggest difference since I started playing. This game is so much about human nature and what you're doing with contracts with money and years is you're messing with the survival instinct. You have to be really careful who you pay like that for years...(outside of Votto, Pujols and Fielder)...normally it does put a burden on the coaching staff, 'cause if the guy can be a jerk and walk up to you and say, "look at my contract" you literally have to fight through it and go face to face and say, "hey, I don't care what it says," personalize your style of coaching. They can make it easy for you or they can make it difficult."
The Mets play their last spring game of March in Tampa today against the New York Yankees at 12:05PM. The game will not be televised on SNY but will be broadcasted on YES.
After that, the Mets head north as we head out to the Citi for the first time this year tomorrow.
Sweetness.